Here at EMF Well our primary goals are to maintain and improve personal wellness in the electrically polluted environments we find ourselves in due to modern electrical and communications infrastructures. Through inspection, remediation, and safe daily practices we can minimize exposure to harmful electromagnetic fields and radio frequencies in our living and work environments. We offer specialized services that cater to these goals as well as a wide range of general contracting services for residential or commercial locations. Our experienced contractors specialize in the following:
Environmental EMF/RF Focus
Electro Magnetic Field (EMF) / Radio Frequency (RF) Inspections/Survey of homes, businesses, and vehicles (local or remote inspections available)
Construction and remediation for reducing harmful EMF/RF exposure in your environment
EMF/RF Meters and EMF/RF shielding/remediation solutions and sales
General Construction Services (Santa Cruz County, California Locations)
General Construction (remodels, decks, stairs, fences, Windows, Doors, Skylights, etc.)
Independent Building Inspection services
Water quality testing, whole house water filtration, and reverse osmosis (RO) water filtration system installations
DC/Solar Off-grid Electrical Systems for home, & RV/vehicles
Wired and wireless telecommunications system networking (voice and data solutions)
Interior/Exterior House Painting
EMF Inspector/Consultant
Adam Myers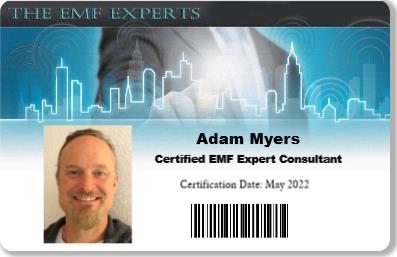 Electromagnetic Radiation Specialist (EMRS)
Environmental Building Consultant
Licensed Telecom Technician (C7)
Licensed General Contractor

Adam has served close to three decades within the telecom and hi-tech manufacturing industry in the greater Silicon Valley areas. Being immersed in the tech boom through the late 90's to the present, Adam has held positions in production management, telecommunications (wired & wireless network infrastructure installations), Information Technology (IT), pro audio engineer/recording studio owner, and manufacturing hardware/software service & support management.
Having early personal experiences, as well as witnessing other's negative effects of electrical pollution, Adam recognized that usage of electronics and the spaces we occupy can have harmful effects on our health and personal well-being.
As a sound healing practitioner, holistic life coach, and certified massage therapist, Adam brings his passion to support individual personal healing, and total-well-being through various modalities within the vast frequency spectrum that we inhabit.

Adam brings a wealth of knowledge and experience in helping clients improve their well-being through intelligent use of electronics and navigation of the environments around us.