Radio Frequency (RF) Meters
Wireless communications technology is rapidly changing. With the ongoing rollout of the 5G (5th generation cellular/wireless technology), new high-band microwave frequencies (millimeter waves) are being deployed. EMF Well is dedicated to staying up to date with the latest information and tools available to limit our exposure to harmful microwave radiation.
The RF meters and detectors below are tested, recommended and supported here at EMF Well. Not all meters perform the same and there must be some discernment when deciding what meter to purchase for your intended requirements. Please contact us with any inquiries you might have for your specific requirements when deciding what meters to purchase.
Current consumer broadband RF meters are able to measure mid-band frequencies around 200MHz-10GHz. As well as operating at these existing mid-band frequencies new 5G millimeter waves that are being deployed by cellular service providers, and are capable at operating at much higher frequencies (Range up to 100GHz). 5G Verizon Ultra Wide band is the largest provider of 5GHz technology that is operating at the 28GHz mmWave, other frequencies in the millimeter range are planned for future use by the various cellular providers.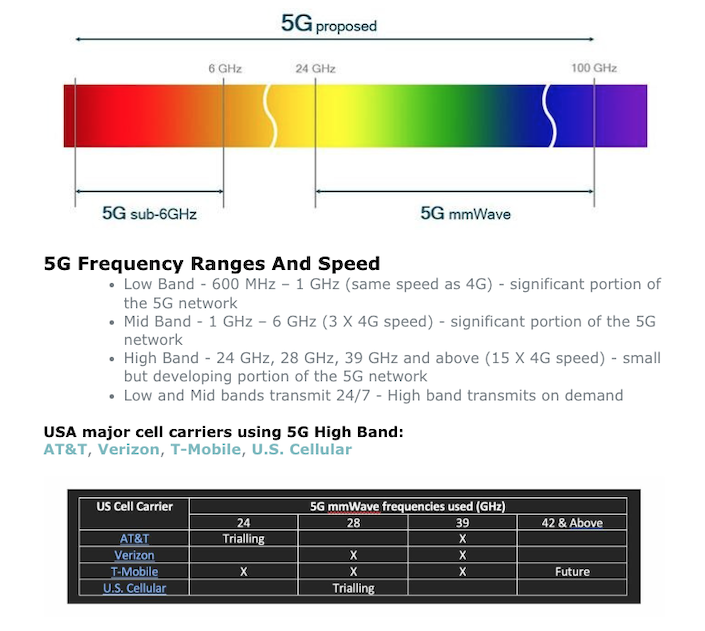 All meters offered below measure at the manufacturer specified mid-band RF frequency ranges. With the growing demand for affordable meters that can measure high-band millimeter waves, EMF Well is excited offer and support the worlds first affordable handheld 5G millimeter wave meter, the FM5 (Freedom Monitor 5G).
Click the button below to visit the product page and learn more of the new FM5 millimeter wave meter!
Recommended RF Meters
For measuring ambient signals from sources such as: cell phones, cell towers, 4G & 5G antennas and towers SMART meters, SMART devices, BlueTooth devices, baby monitors, cordless home phones, wireless routers (both 2.4 and 5 GHz), airport radar, and, microwave oven leakage detection.
Safe and Sound Pro II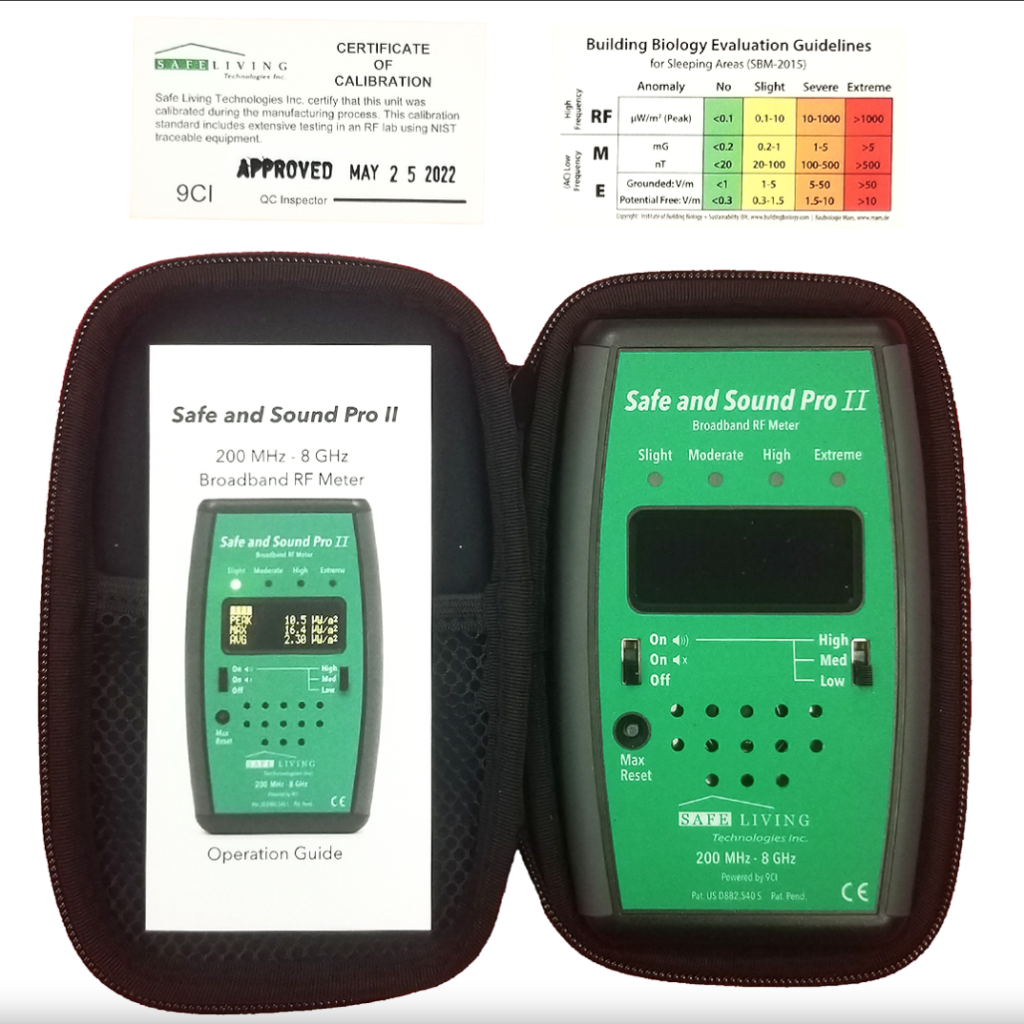 $385
The Safe and Sound Pro II RF Meter is a professional RF meter that is designed to measure ambient radio frequency / microwave signals, and has a built in antenna.
This meter is a 3rd party certified RF detector with effective measurement range of 200 MHz to 8 GHz, true response detection range 400 MHz to 7.2 GHz (+/- 6dB).
Also includes a premium 4 line OLED Display for digital readings up to 2,500,000 µW/m² and down to 0.005 µW/m², Max Hold, Max Reset Button, USB Power Jack for Continuous Monitoring, Volume Control, Headphone Jack, Calibration Certificate and more!
The meter has been tested and certified by The Nemko Canada Inc Testing Lab in Cambridge Ontario, Canada.
Enter promo code: EMFWELL at checkout for 5% off your order.
Safe and Sound Classic II
$159
Unlike any other detector in its price range. The Safe and Sound Classic II RF Detector is a compact, simple to use detector for Radio Frequency / Microwave Radiation. Engineered and designed by the RF Engineers of Safe Living Technologies. Manufactured in Canada and circuit board made in Silicon Valley, USA. Provides a quick and simple assessment of the RF present in your environment and requires no technical experience. It uses color coded LED's which correlate to measurement ranges to assess the RF exposure in your environment. The Safe and Sound also has a sound signature analysis which helps identify which RF Sources you are being exposed to.
Enter promo code: EMFWELL at checkout for 5% off your order.
Safe and Sound Micro RF Detector
$299
3rd Party Certified RF Detector With Full Frequency Response From 700MHz to 9GHz
The first of its kind, the Safe and Sound Micro RF Detector is wearable wristband detector. An innovative product of our own design and engineering, this device will notify you with a small vibration when environmental wireless radiation exceeds your desired exposure level. Moreover, with a push of a button, a color-coded light display will indicate the intensity of surrounding exposure. Allows for 24/7 monitoring of your environment
Enter promo code: EMFWELL at checkout for 5% off your order.

Acoustimeter AM-11
$349
Easy to Use With a Wide RF Measurement Range
Includes an extended frequency range which measures radio frequency / microwave radiation (200 MHz – 8.0 GHz).
Also includes audio signal analysis, LCD displays peak and average values, Led indicators displays a quick visual of RF intensity.
The Acoustimeter AM-11 is a reliable, user friendly RF meter which enables you to make quick and informed decisions regarding the level and source of radio frequency signals in your environment.
It comes equipped with two series of graduated LED lights and an OLED display offering precise measurements with a lower update speed, giving you time to take note of the readings.
Enter promo code: EMFWELL at checkout for 5% off your order.

EMF-390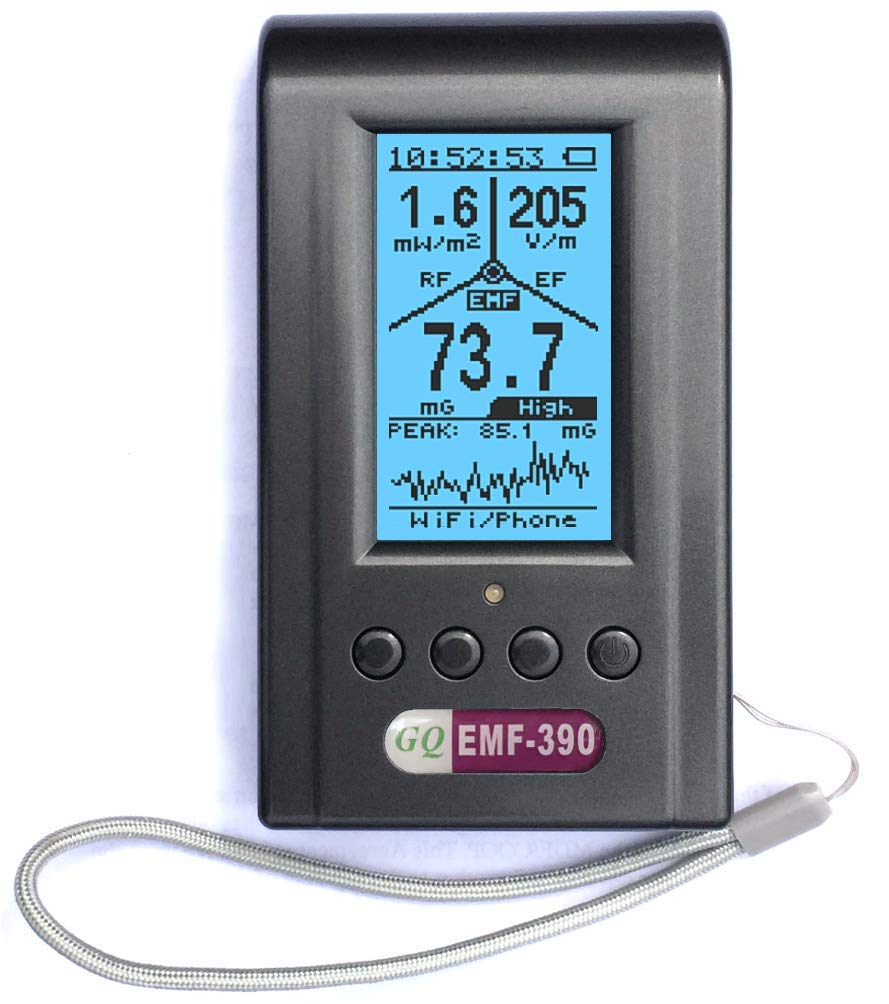 $119
Advanced EMF Meter GQ EMF-390 3-in-1 EMF ELF RF Meter, 5G Cell Tower Smart Meter WiFi Signal Detector RF up to 10GHz with Data Logger and 2.5Ghz Spectrum Analyzer.
Read EMF, RF and EF at same screen at once
Detects all three invisible radiation source and gives warring
Auto identify the possible radiation source
Rechargeable battery can be charged on a any USB port or cell phone charger
Every second data logging and save up to 24 hours history data